www.sllim.com
I now have my own domain. It's
www.sllim.com
.
The main page
From there you can access 3 pages
1.
Blog
Which is this page you're looking at right now
2.
Design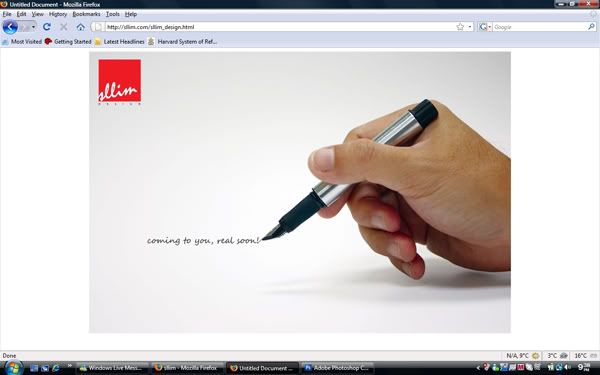 I'll be uploading some of my design work there later. It's still under construction. Hopefully not for long.
3.
Photography
I'll be uploading my best photos here. There are 2 categories at the moment. There will be more soon once I've sorted out my photos.
Coming soon : About me section, Contact me section.
I could think of 2 now, if there's more I'll include it.
My website would be like a place to host my work/portfolio.
I've chose to keep things really simple because that's the way I like to work. Minimalism. Less is more. Therefore I felt it is important to reflect that on my website.
It's still work in progress but at least it's up! And it wouldn't change much if I need to do any changes.
Do take a look and give me your feedback, comment, critique, etc.
On a final note, my blog is now
http://blog.sllim.com
. If you are linking my page to yours, please note the change in URL. Thank you
Cheers