3 days left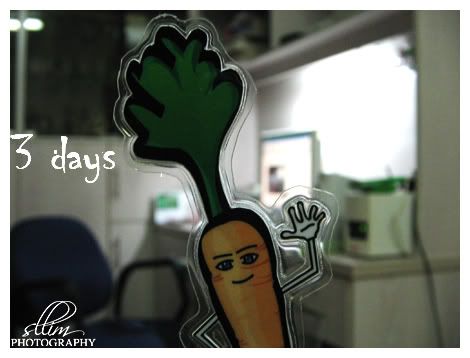 Introducing Carl, the Carrot. He is one of the character from my educational veggie series.
Click to view : Eggplant, Cucumber, Carrot, Tomato

My lighting works! I can still connect wires to bulbs, switch, and battery holder without much trouble! Lol... So easy thing sure can do la. All flow one direction. Direct current? Dunno la... As long as can work ok already!

I'm actually tackling 2 Major Projects at the same time.



Project 1.

The educational Veggie Series
- This project is aimed at children aged 7 & 8
- To encourage them to eat vegetable
- Includes sticker and bookmark



Project 2.

Book Jacket for 3 books
- I chose 3 books from author, Lee Strobel
- Had to do the book jacket, promotional pack & point of purchase
- The lightings are for this project

I think this is the first time I'm introducing my projects. Both projects are doing good. I'm happy with my progress.

Cheers.